How to set up Amazon Affiliate Account?
If you want to start an affiliate marketing business, and you are completely new to this concept, how to set up an amazon affiliate account? You have landed on the very right website. First, read here for a quick understanding of what and how affiliate marketing works. To read this blog post in Hindi click here.
To start Affiliate Marketing you need someone's products or services. For that, there are many marketplaces and affiliate networks where you have to apply to promote their products.
For beginner and newbies, I would suggest them to sign up an amazon affiliate account. The main reason, Amazon is the largest affiliate marketing program in the world.
Become An Affiliate!
Friends, do not get confused, Affiliate account and Associate account both are the same. When you go to the Amazon website and scroll down to its footer, you will see a link "Become an Affiliate", when you click on the link it will take you to the page with the title "AmazonAssociate".
So both are the same.
In this article, I will walk you through How to set up Amazon Affiliate Account.  So let us begin How to join An Amazon Affiliate program.
Joining most of the affiliate programs is, 'free to join' but they have their own sets of criteria to approve you as an affiliate. To become an amazon associate(affiliate), you have to fill-up their application form.
Let us do this step by step. Open your browser and type in the search bar "amazon.in", This will open the Indian website of Amazon.  Amazon has a presence in multiple countries, and for each country, they have dedicated sites. Considering your website audience you have to decide which country's associate program you should join. Amazon is based in the USA and the biggest volume of their business is from the US, so we will create our associate account at Amazon.com. Please note that process of creating an associate account is the same on all amazon sites.
Type in your browser for the amazon.com website. Here is the Amazon.com website. Let us scroll down to the bottom of the site.

These all are links to different services and product sites of Amazone partners.
And here are the links with which you can join Amazon for different products and services. You can join Amazon to sell your own product, you can join amazon to promote your Apps, All the different ways to join amazon under this "Make Money with Us" heading.
Click on "Become An Affiliate" and you will see this screen.
This is one of the largest affiliate marketing programs in the world. The Amazon Associates Program helps content creators, publishers and bloggers monetize their traffic. With millions of products and programs available on Amazon, associates use easy link-building tools to direct their audience to their recommendations and earn from qualifying purchases and programs.
Before we continue let me inform you that you can promote Amazon Products anywhere and any audience of your website in the world but you must have an Associate ID for each of those respective countries.
On the top menu bar, you can see the "amazon associate" logo on the left side. And on the right side, there are three tabs, 1 sign in,  2 English – EN,  3 Flag icons, and the country's name.
On tab 2 you can change your preferred language by clicking on it and on tab 3 you can change your preferred country from the dropdown.
Here we choose English as a language and the USA as a country. Now we can join this Amazon Associate program by clicking on this "Sign up" button. When we click on it this window will open.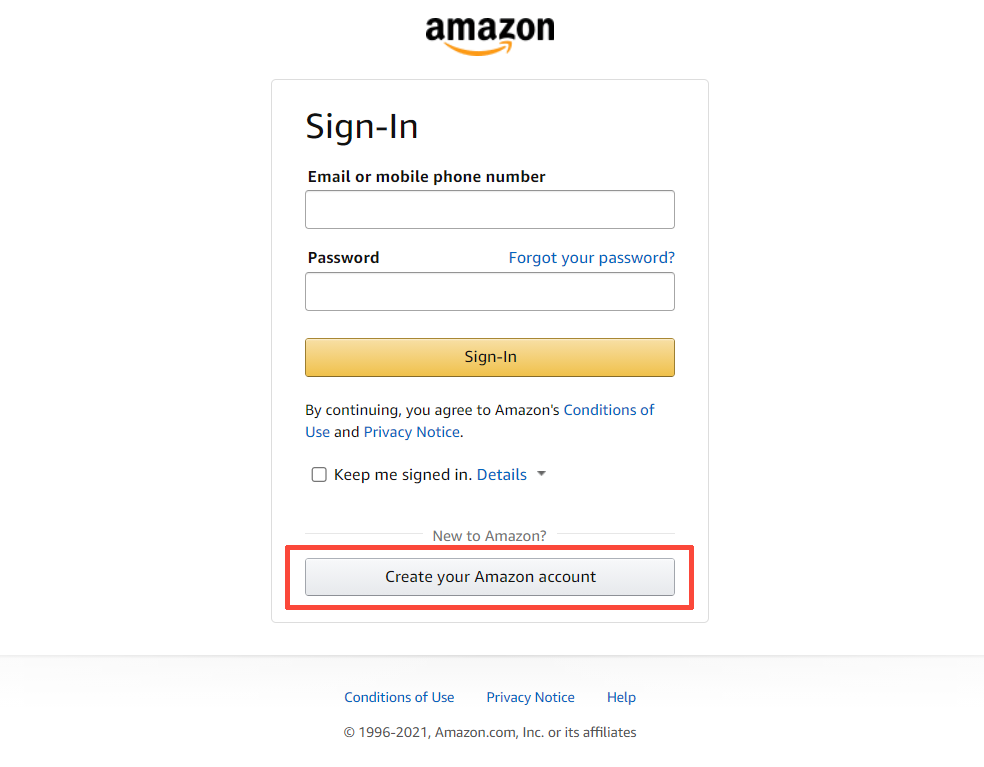 If you have an amazon affiliate account you can log in by filling up your Mobile number or email address and password. Here we are creating a new affiliate account so we have to click on "Create your Amazon account".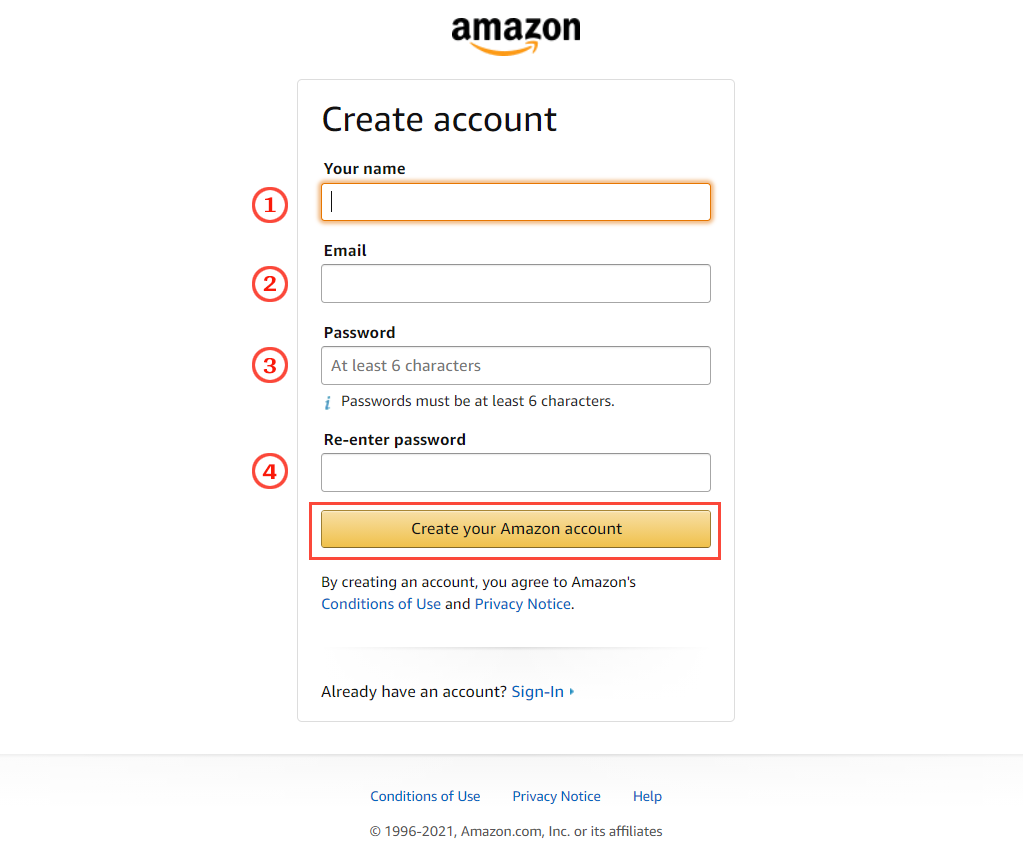 Now on this window, you have four fields in the form to fill up.
Your Name – Please note that here you fill-up the same name as your bank account has in their record.
Email Address – Your primary email account address.
Password – must be at least 6 characters.
Re-enter Password.
Fill up the form and click on "Create your Amazon account"
You will receive one time OTP in your email inbox from Amazon.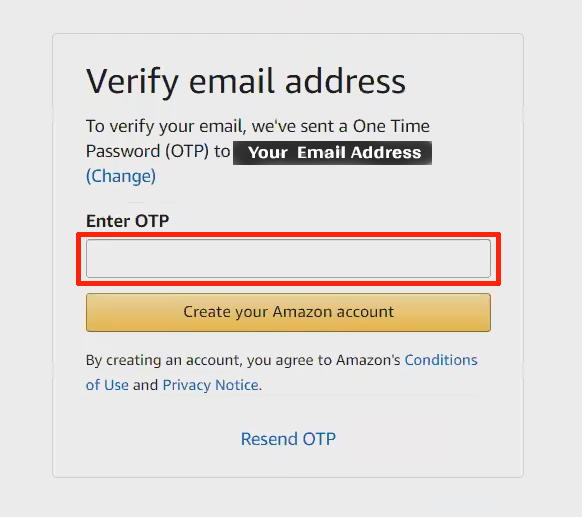 Enter OTP here.
And click on the "Create your Amazon account" button.
Now you will be on this window.
You will get 4 step form where you have to fill up your details.
Step 1 – Account information…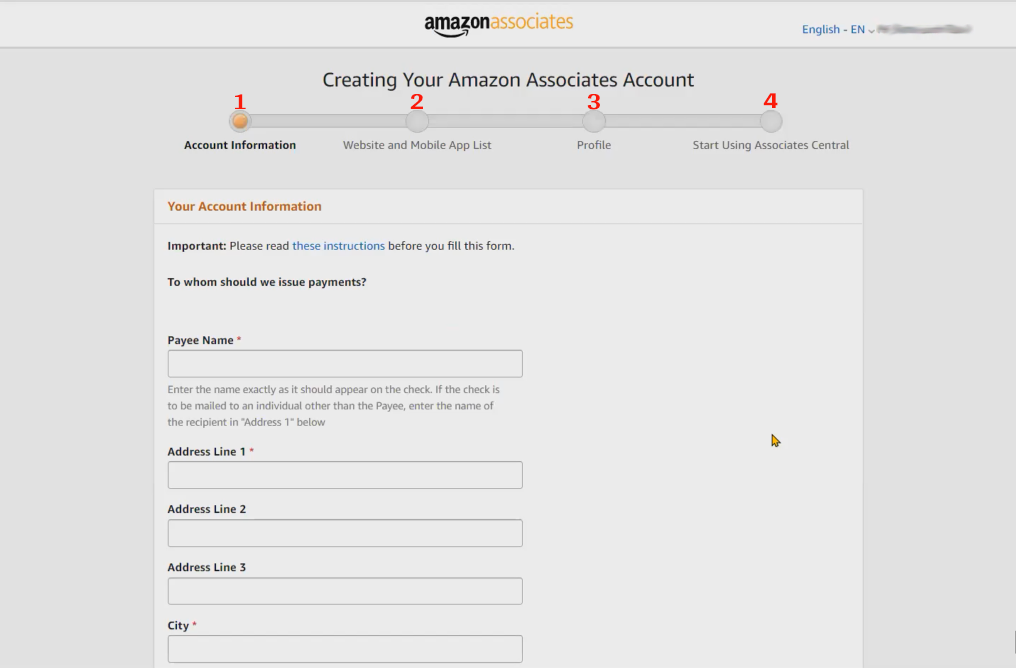 Where you have to write Payee's Name and address. If you do not find a State, Province or Region in the dropdown, you have to select the country's name first. The country's name will show "United States" by default, so you have to choose the country as per your permanent address. Now you have to add the state province manually.

Enter phone number with correct country's ISD code.
At the bottom, amazon asks who is the main contact for this account? so you have to select  "The payee listed above."
Check every field is filled up correctly, click on the "Next" button in the bottom right corner.
If there is any issue in Address Popup will open and amazon will suggest the correct address with GREEN highlighted text, you can select the original address you have filled or you can select amazon suggested address, whichever you feel is correct.
In this example, you can see we have typed State province Name in Lower case and Amazon suggest that it should be all capitalized.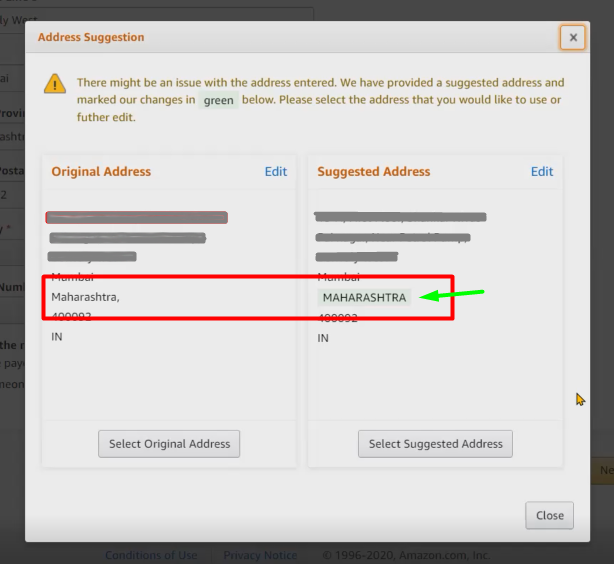 Step 2- Website & Mob. Apps List…
We have completed 1st step and now We are on step 2.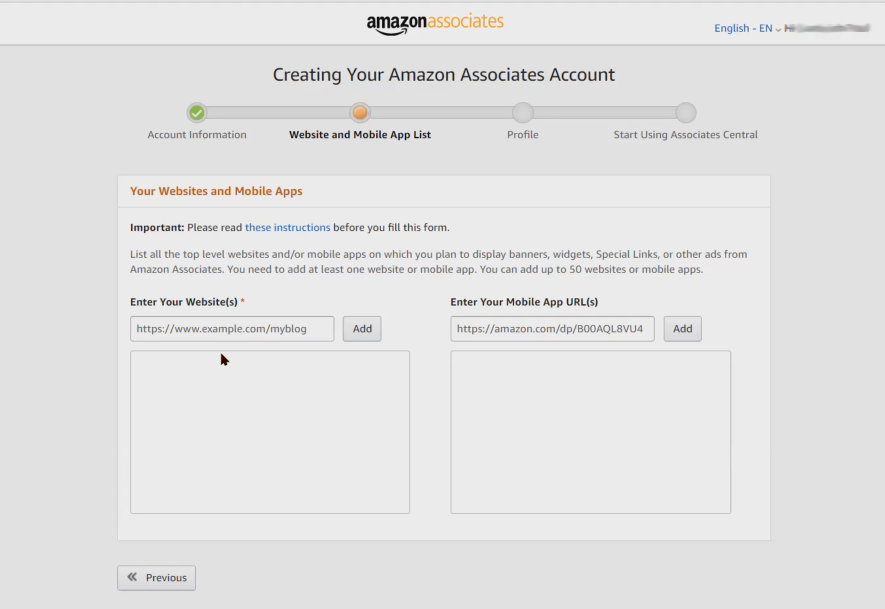 On this page you have to add your website URL, if you do not have a website, you can add your social media profile URL. You have to add at least one website in the above box, and it is mandatory. Here you can add up to 50 website URLs. If you have your own App, you can add them to the box given on the right side.
Now Click on the "Next" button.
Here you have to disclose that whether any of the above-listed sites are directed primarily at children under 13? If "Yes" then such sites are not eligible to display promotional material. Please remove such listing from the above, and then select "No" and click on "Confirm". 
We have completed the second stage of our application here. And now we are on the third stage where we have to fill up our Profile details.
Step 3 – Associate's Profile…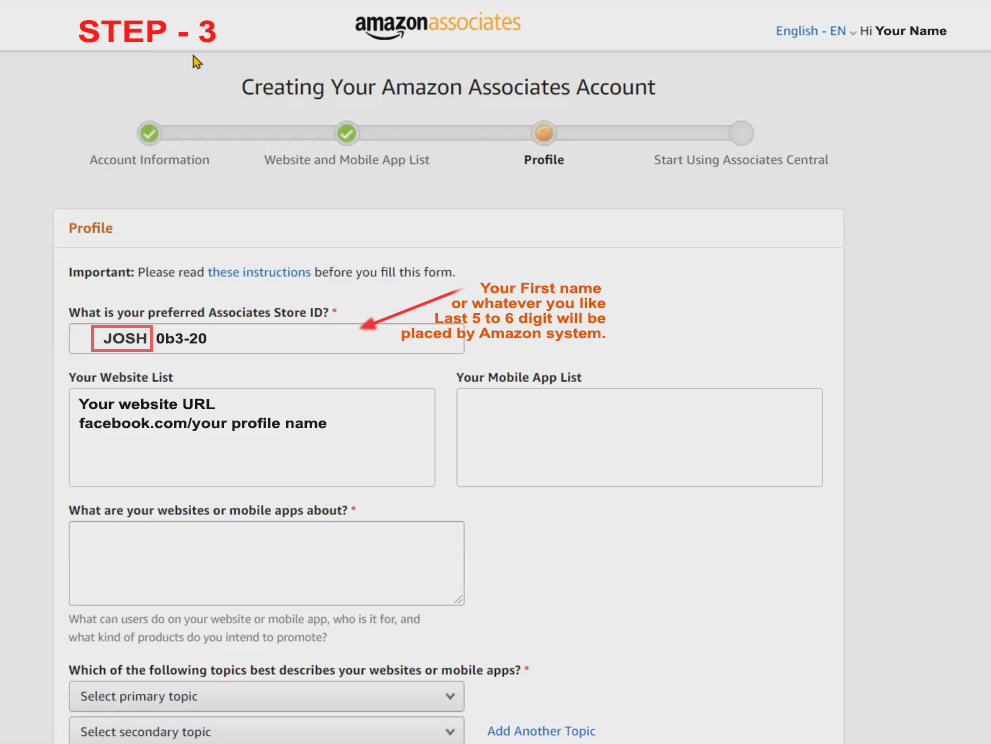 On the very top input box, we have to write our preferred Associate Store ID. Here you can write your first name or anything you like. Keep it short as Amazon will add 4 to 5 characters to it at the end for their reference. As an example, if you write "JOSH", it will become "JOSHxxx-20". Here xxx-20 will be added by the amazon system, where the last 20 stands of US as country code. Last 2 digit represents the country.
The second input box is for Your website list, this would be pre-filled, as you have declared in previous step 2.
On the third input box, you have to show the about information the websites you have declared above.
In the rest of the form, you have to select appropriate text either from the dropdown or by selecting the check box. These all information are for Amazon reference and it won't make any major impact on your promotion or your commission earning.
At last, you have to type a text in the input box as shown in the captcha image, to prove that you are a human and not a robot. Below that, you have to select a check box, by which you agree to the terms and conditions of the Associate Program Operating Agreement.
Now click on "Finish >>" button.
Step 4-Start Using Associate Central…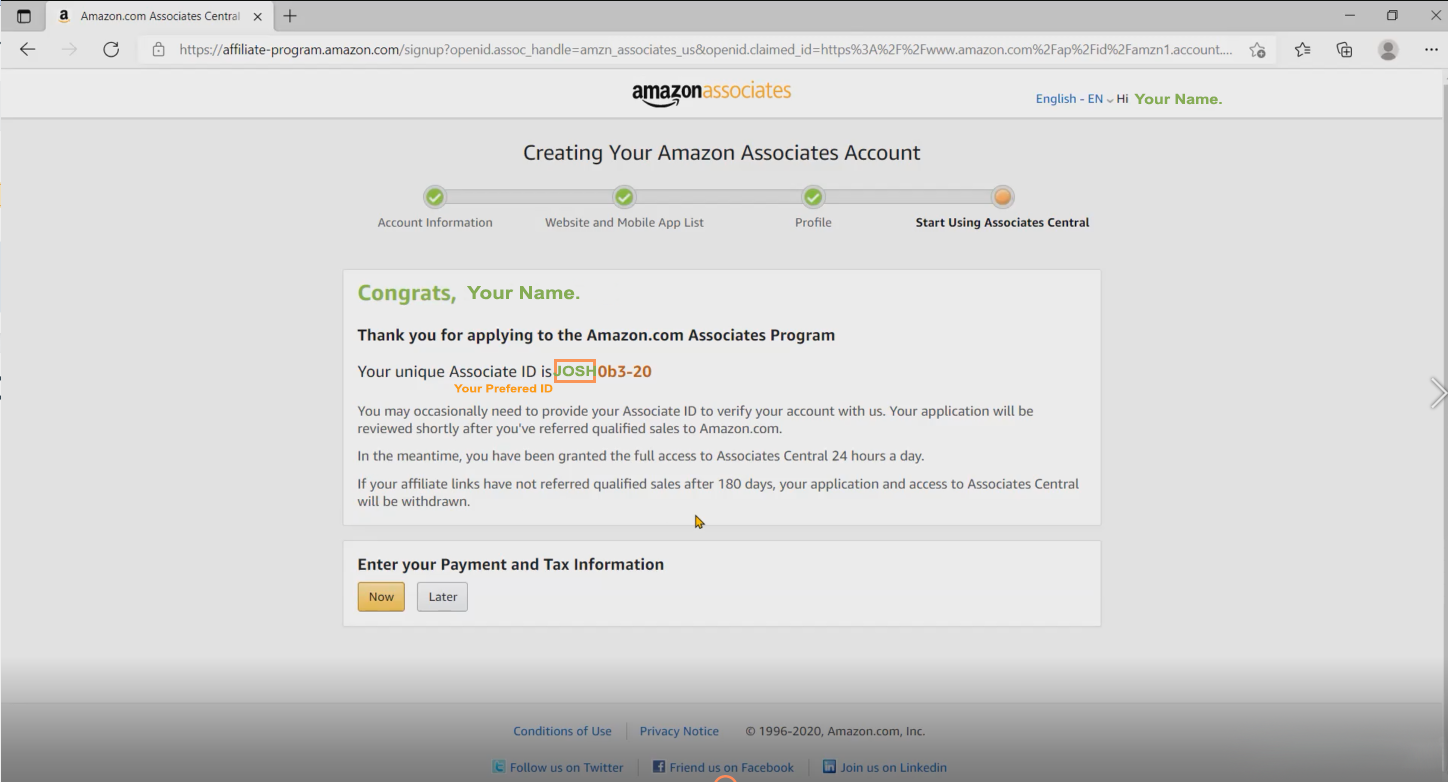 We have almost done. You will see a congratulation message with your name and also your Unique Associate (Affiliate) ID.
The last step is we have to enter our Payment and Tax Information, but this is not compulsory to provide right now, you can submit when you have earned some commission and receive notification from Amazon to submit your Tax information. So click on the "Later" button as of now to finish the registration process.
Important for New Affiliate: Please note that in the last part of the 'Congratulation message' they have mentioned "If your affiliate link has not referred qualified sales after 180 days, your application and access to Association Central will be withdrawn." Do not be disappointed, when this happens, you can reapply for the same. You have to do this same process once again.
How to create affiliate links and how to use Amazon Associate Central we will see in our next post. If you like this post, do not forget to share it with your friends and subscribe to my site.